More information is also found on our News & Events webpages…
All are welcome here – all the time.
You do not need to be a member of this church or Lutheran to take part in the Sacraments here. We do ask that you desire a relationship with Jesus Christ. If you feel it, please follow
Support for Your Day…
Verse of the Day – Please join with our congregation in reflecting on the Verse of the Day, provided by BibleGateway.com.
Daily Bible Reading – The people of the Evangelical Lutheran Church in America (ELCA) reflect on a Daily Bible Reading.
Prayer & Support Requests – If you or someone you know needs prayer or support, consider alerting the Christ Lutheran Prayer Chain. Members commit to pray for your need immediately. You may remain anonymous. To request prayer or pastoral support, please call 847-367-5787 and leave a message or send an email to 

ChristLutheranVH@aol.com

.
---
We Welcome justWorship as Ministry Partners
Christ Lutheran is excited to partner with Pastor Jin Lee and the entire justWorship community of faith. This group gathers for non-denominational worship each Sunday morning beginning at 11:15 a.m. in the sanctuary. Learn more at www.justworship.org.
Love Inc. Spaghetti Supper
Terrific fun for a great cause
We all enjoyed the recent Spaghetti Supper – and we gathered so many items for the clients of Love Inc., which works to help people transition from homelessness to hope. Think about thinks like can openers, dishes, flatware, towels… and so many wonderful crock pots! We will continue to support this amazing ministry all year, so keep that in mind when you come across gently used items around your home, or terrific sales in the stores. If you want to learn about volunteering, talk with Natalie – she goes every week. Thank you to Allie for getting us going with this wonderful ministry partner. www.loveinclakecty.net.
Backpack Ministry
We are already thinking about back-t0-school time. We will join with other churches in buying backpacks and other school supplies for kids who need a little extra support. Watch for shopping lists, or see Allie (our super shopper) with your donations.
Caring Hands Ministry
Next Work Day: June 17
Or make projects from home!
A group of talented and creative participants meet to sew, knit, crotchet and otherwise create blankets, prayer shawls, hats, mittens, scarves and more. Items are prayed over and provided to those in need of comfort – including people at our local hospitals, and children being served by the Lake County Courts in Waukegan.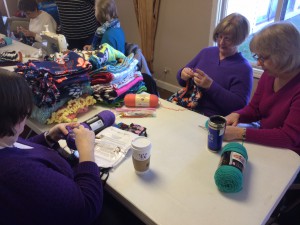 In 2015, the group completed 590 blankets and 229 hat/mitten sets that were distributed to those in need of comfort and care. What an accomplishment!
Everyone is welcome to participate in a work day – no prior experience is necessary. In fact, the group has ideas for comfort craft projects you can do all year on your own – for instance, crocheting prayer shawls or finding good sales on children's mittens. For information about our work days or how you can help between meetings, please contact caringhandsvernonhills@gmail.com.  Special note: There is a need for prayer shawls. If you would like to do a little handiwork at home, consider creating a prayer shawl for your project. To find out more about dimensions or patterns, please email to the group. Thank you! Work days are generally from 8:30 to 12:30 on Saturday mornings. There is no meeting planned for December. The 2017 Schedule:
January 21
February 18
March 18
April 8
May 20
June 17
September 9
October 21
November 18
In Honor of Mother's Day:
Baby Care Items
In honor of Mother's Day, we collect items needed by new mothers to care for their children – diapers, wipes, shampoo, onsies, blankets…  Anything helps as the moms we serve through local agencies often have nothing. Should you ever feel the call to this project, the need is always there – bring your items and we will get them where they are needed.
COOL Food Pantry & Outreach
January – Canned Soup

February – Peanut Butter

March – Macaroni & Cheese

April – Bars of Soap

May – Canned Fruit

June – Canned Tuna

July – Peanut Butter

August – Macaroni & Cheese

September – Bars of Soap

October – Canned Soup

November – Canned Vegetables

December – Canned Meats (tuna, Spam…)

Ongoing – Small/sample sizes of toiletries

EASTER MEAL LIST – COOLEasterBasketMenu2017
COOL Ministries was founded by a group of Lutheran churches in the Waukegan/North Chicago area. (COOL stands for Christian Outreach of Lutherans.) Through this group, we help provide food, clothing, shelter and job training to help lift people out of poverty and into self-sufficiency. Every month we gather offerings of specific items to take to the COOL pantry and programs – or whatever nonperishable you feel called to give – it is all needed!  We also donate personal care items, Easter Meals and Thanksgiving Meals. Last year we donated more than 400 pounds of food. Donation baskets are located under the church mailboxes in the hallway. To learn more about COOL, please visit the COOL Ministries website or Facebook page. If you have questions about our efforts here at Christ Lutheran, please contact Rob Jost (rjost@marsinsurance.com) or Penni Sauer (penry4@gmail.com).
Manna Shopping Card Program Is Changing…
In the past, Christ Lutheran participated in the Manna Shopping Card Program – we bought gift cards to use as gifts or for our own every day purchases. A percentage of what we spent for the cards came back to our ministries. Manna has had a change, and is being combined with another organization. Stay tuned as we see how to get involved. Thanks to Penni Sauer for all of her work on this program, and thanks to all the people who got in the "Manna Habit."
Winter Outreach: Project Warmth…
Give Your Old Blankets New Purpose!
We have "turned off" our winter collection for the season, but will begin again when the weather turns cold 
We collect used (and new) blankets, comforters and sleeping bags, which we deliver downtown directly to the homeless camps where the items are used as base layers and covers.
Other items – smaller sizes of shampoo, toothpaste, deodorant, hand lotion, toothbrush, comb, chapstick, mints/gum, warm socks, hats, underwear, gloves, scarves, small snacks, plus zip lock bags for us to pack the items into. (Please, no razors, mouthwash or pillows.)
Our group may be little, but we have huge hearts and helping hands. During the colder months, we especially think about our homeless brothers and sisters. Several members came up with the idea of collecting blankets, sleeping bags and comforters to deliver directly to those on the Chicago streets. Starting again this fall, please consider looking through your closets, basements, attics and other storage spots and see what blankets you might have that we can repurpose and deliver. Items do not have to be in great shape – we clean and mend. We will also collect and deliver other personal care items as well – socks, hats, toothpaste, chapstick and lotion (please, no mouth wash). Don't throw out that worn blanket – we will give it new life! Thank you to Lois Menis for envisioning this outreach, and all who have embraced this important ministry.
Orlando Project – Notes of Love and Encouragement
More than 2000 quilts distributed in October 2016
Deb Barnstable has felt moved to create a quilt of comfort to honor the victims of the Pulse Nightclub shooting in Orlando. She incorporated a pocket into the design where we slipped in our notes of encouragement and love. Deb delivered the quilt to the Orlando Quilting Guild, which received more than 2000 quilts and quilt blocks from across the nation and more than 50 countries. The Guild has more than 2000 quilts to distribute to survivors, the families of victims, first responders, and others who need to feel the warmth of God's embrace through these lovingly created quilts. Here is a YouTube video of one of the distribution events. (Deb was instrumental in creating the "Jesus the Good Shepherd" art quilt that hangs above the sliding doors.) Thank you, Deb.
Empty Bowls Hunger Initiative
Second Annual Soup Supper was November 6, 2016 – more than $800 raised that night!
Thanks to all donations, we are now at the $1000 mark!
More info on the Empty Bowls poster – EMPTYBOWLSFLYER2016
Thanks to our local Girl Scouts and Boy Scouts for their painting expertise.
Our congregation continues to support an Empty Bowls grassroots effort to end hunger within our midst. Every single dollar given goes directly to the COOL Food Pantries, which serves all who come to them at their Waukegan ministries. Special thanks to Penni Sauer, who continues to lead this effort. If you have questions or feel an interest to help, please contact us at CLCEmptyBowls@gmail.com. Also, check out the Empty Bowls website for information about this grass roots effort – www.emptybowls.net.
Collecting and Making Children's Hats, Mittens, Etc.
Working with our Caring Hands friends, we continue to provide hats, mittens, scarves and gloves local kids who could use some extra warmth. So far we have handed out 275 sets to the children who visit Lake County Courts as well as those served by A Safe Place and Lake County Haven, and Hawthorn Elementary North. Drop off your donations into the bin under the church mailboxes. Handmade, purchased, fancy, plain – the most important thing is warmth. If you have items for adults, we can distribute those as well through Project Warmth serving the Chicago homeless population. Thank you.
Lutheran Disaster Response Working Here at Home and Around the World
The ELCA (Evangelical Lutheran Church in America), of which we are a part, provides one of the world's most effective and immediate disaster responses. Through this ministry, we provide support to those in need locally (such as those who were hit by recent hurricanes and floods) and globally (such as the victims of the Italy and Nepal earthquakes). If you are looking for a way to help, consider donating through the ELCA Disaster Response ministry. You will find a "Give Now" button on the right side of the webpage – once you click you will find an online giving form or an address where you can mail your donations.
Vernon Township Adopt a Family
We helped make Christmas a little brighter for a family of 5. Their wants were simple – socks, hoodies, towels… We were called on after Thanksgiving and we responded in our typical Christ Lutheran fashion – quickly and joyfully.
ELCA World Hunger Initiative  
We are part of the Evangelical Lutheran Church in America, which for decades has been feeding people here at home and around the world through the ELCA World Hunger initiative. As a partner of churches, social ministry organizations and development and advocacy organizations, ELCA World Hunger helps reach communities most in need throughout the world.  From health clinics to microloans, food pantries to soup kitchens, advocacy to community organizing, our gifts are supporting innovative solutions that get at the root causes of hunger. Last year, gifts to ELCA World Hunger supported at least 636 projects around the world, including  388 food pantries, homeless shelters and other projects in the United States; and  239 sustainable development, health and other projects around the world . Learn more about our efforts to feed the world on the ELCA's World Hunger Relief webpages.
Sponsored Scout Groups
Boy Scout Troop 273
Cub Scout Pack 273
Christ Lutheran is a sponsoring organization of our local scouts, specifically Boy Scout Troop 273 and Cub Scout Pack 273. Groups meet here at our church from time to time. We as a congregation work to support the boys' efforts, and in turn the scouts often include us in their projects. Examples of Eagle Projects include new flooring in the PreSchool Work Room, the construction of our utility shed, and landscaping around the building. For more information, visit www.troop273vh.org or www.pack273vh.org.
Support Groups
Our church serves as a host site for support groups, including AA, NA and Al-Anon. For more information about the confidential support that is available, please visit the Northern Illinois Area District 10 webpage or the Northern Illinois Al-Anon Family Groups webpage.
A Thank You Card to God
Here at Christ Lutheran we take a different approach to stewardship and giving. We encourage each other to work from a place of joy, not guilt. We encourage each other to participate and give back in ways where they feel they have been called to work. Similarly, when we reflect on our blessings and our gifts, we don't focus on monetary pledges. We don't conduct a typical church stewardship drive when leaders might ask for pledge dollars. Rather, try to reflect on the blessings God has given, and then purposefully decide just one thing each individual or family might do to give honor and glory back to Him. We try to not work from a mindset of guilt or obligation, but rather we try to find something that feels right – something we are each "called" to do. One can of corn to the C.O.O.L. food pantry drive, a note of encouragement to a friend who needs a lift, an effort to start your day with a quick prayer of gratitude and thanks…  No matter what blessing you decide, we pray that the blessing you give will, in turn, bless you as well.  To help you reflect and document your thoughts, consider downloading this "Thank You Card to God."   Stewardship2014ThankYou
ELCA Good Gifts Catalog
Great ideas for the person who has everything and needs nothing
Make a difference in the world with just a few dollars!
What to buy for the person who has everything? How about a pig? Or a malaria net? Or a warm meal? You can give all of these things and 47 more options through the ELCA Good Gifts catalog. This year's catalog offers easy ways for our families to save coins and dollars toward purchases that make a real difference in the world. (Did you know you can buy 6 large, durable water transport jugs for only $12?)  The ELCA (the Evangelical Lutheran Church in America – the group to which our congregation belongs) offers one of the world's most effective and respected responses to disaster relief and humanitarian aid. If you feel called to this ministry, please check the online Good Gifts catalog.
Bethel New Life Supports Chicago Neighborhoods
Support Bethel with Your Online Shopping
Our congregation works in partnership with Bethel New Life, a non-profit formed by a Lutheran church on Chicago's West Side. Bethel provides a variety of powerful initiatives – affordable housing, elder support, youth intervention, job training. If you are an online shopper, you can continue to support Bethel by using the AmazonSmile or Buying2Give portal. By just going through those charitable "doorways" you will support Bethel, as Amazon will give up to 4% of your purchase back to them.  Visit http://astore.amazon.com/b2gbethel-20 or visit https://smile.amazon.com – search for and designate "Bethel New Life in Chicago, IL" as organization to receive your percentage back gift. Both of these sites are open all year round. Please keep the Bethel families and volunteers in your prayers. For information, visit www.bethelnewlife.org.
Lenten Journey
We have gathered some Lenten Devotional resources for use during the Lent. Because we are an Easter People, you may find them helpful any time of the year.
20+C+M+B+17?
What does this mean?
If you were living in Europe around this time of year you might see this notation written in chalk above the doorways of Christian homes. The letters are the initials of what tradition says are the names of the Magi: Caspar, Melchior and Balthasar. (It is during this season of Epiphany that we celebrate their arrival.) These letters also abbreviate the Latin phrase Christus mansionem benedicat – May Christ bless the house. The beginning and ending numbers are the year and the crosses represent Christ. Thank you to Tom Pfenning for the information and for changing our sign, especially in this cold weather! Check out more information on German Epiphany traditions, and the C+M+B revival.
Mission Moments – The 2014 Stewardship Journey
It is traditional in many churches to use the fall for stewardship drives. In general, those drives would include discussions about church budgets and individual giving pledges. However, Christ Lutheran is a little different (ok – a lot "different"). Instead of talking about stewardship of our building, we talk about stewardship of our faith. You won't receive a pledge card. Rather, the church works with what we are blessed to receive. As part of that faith, we sometimes focus on our individual faith journeys, and share how as we are blessed so that we then can bless others. Thank you to the four congregation members who volunteered to share  their stories during Mission Moments.
As a long-time member, Rob Jost talked about what this church means to him and to his family, as well as how the outreach to the COOL Ministries in Waukegan has been a blessing to him just as much as it has been to all those families served.
Doug Moore shared just a portion of his life, and the paths upon which God has taken him. One of his encouragements is for each of us to ask God what it is that He wants us to do. Doug is living proof that God will tell you and lead you – be ready, because it will not be a boring ride!
Kathy Davis shared how she came to this congregation as she looked for a preschool for Lisa, who is now finishing her college studies. Life has come full circle as Kathy is now our preschool director. Through that ministry we have served hundreds and hundreds of children and their families, helping plant the spirit of Christ in each.
Jack Brandl drew on 1 Peter 2:5, reminding us that we each are the living stones that are built up as a spiritual house. The church isn't the building, it is the people within. He thanked the congregation for teaching him the value of true relationships with each other and with our Savior. Jack's notes are linked here – MissionMomentJackBrandl23Nov2014
Thank you to all who have shared their messages and for all who act as good stewards in so many ways – setting up our Thanksgiving brunch, praying for those in need, teaching our young people, giving a Thanksgiving Meal and so many more ways. Your blessings bless all of us.