With all ministries and opportunities, please do not feel pressured to give time, talent or resources. Rather, we offer these opportunities as ways that we as a community of Christ can use our blessings to help bless others. When it comes to these and other ministries, the most important offering you can give is your prayers. Thank you.
---
Christ Lutheran on Twitter & Facebook
---
We Share a Message of Love and Inclusion
We are a place of welcome and respite. We are also a place where our voices and actions must reflect Jesus' directives to all of us. We are a work in progress, but we will work to examine our hearts, minds, words and actions so that we can be part of the solution.
---
Prayer Concerns
Our Prayer Chain is ready to pray for you. You may remain anonymous. Simply email to christlutheranvh@aol.com and we will begin praying for you.
Our Journey in Pictures!
Check out the slide show of some of our memories here at Christ Lutheran Church and PreSchool. Thanks, Penni.
Congregation Meeting – January 21
Please make plans to be at worship and at the Congregation meeting that will follow on Sunday, January 21. We will look at our congregation's mission/vision, share financial status, look at ways we can volunteer, and plan for our future. Meeting Resources…
Register for Fall 2018 PreSchool
And Think Summer – Kids Kamp Registration expected to open in late January
Open registration is now underway for Christ Lutheran PreSchool for classes starting in Fall 2018. More info is available on our PreSchool webpages. Registration for summer Kids Kamp will open at the end of January. Watch for forms and information.
Boy Scout Fundraiser…
Eat at Jason's Deli on January 30
Our Partner Boy Scout Troop 273 invites you to eat at Jason's Deli on Tuesday, January 30 from 5 to 10 p.m. Mention "Boy Scout Troop 273" and 15% of your purchase amount will be gifted to the Troop. More information
CONFIRMATION – February 25
The next confirmation session will be held February 25 after worship. For youth and adults. Please contact Pastor Amy Becker-Perez with questions – pastor.amy.becker@gmail.com.
Save the Date to Celebrate 25 Years!
Parent volunteers are planning a 25th Anniversary celebration for Christ Lutheran PreSchool. Save the date – Saturday, May 5 from 6 to 10 p.m. at the DoubleTree by Hilton in Mundelein. Watch for info and tell your friends and alumni!
Membership Update
We are working to update our membership information. Please take a moment to complete a form for your family – even if you don't think anything has changed. Forms can be returned to church. Thank you very much.
Donate Responsibly…


Hurricanes, Floods, Earthquakes, Fires – Lutheran Disaster Response is There!

Lutheran Disaster Response, part of our parent church, has been hard at work assisting through storms, floods, fires, earthquakes, famine, war and every other disaster. ELCA Lutheran Disaster Response is one of the most respected relief agencies in the world. They are usually the first one's in, and are nearly always the last ones to leave – staying to help rebuild when most other volunteers have gone home. You can trust that your donations will go to very good use through this organization. To learn more or donate to this relief effort, please visit the ELCA Hurricane Relief webpages.
We Walk in Ministry with Rev. Amy Becker-Perez 
About Pastor Amy…
Before moving to Libertyville in 2013, Rev. Amy Becker-Perez served congregations in the Milwaukee area for 8 years. She received her Masters of Divinity from The Lutheran School of Theology at Chicago and graduated from Concordia College in Moorhead, MN with a BA in Elementary Education. Many experiences and people were key to developing and encouraging Pastor Amy's call to pastoral ministry, but some of the most striking happened while she worked at a homeless shelter after college. Pastor Amy lives in Libertyville with her husband, Pablo, and their two boys, Gabriel (2 ½) and David (8 months). Many hobbies have taken a back seat since having children, but when she's not working or playing with her boys, she is likely reading, walking or enjoying a local event or restaurant.
Mid-Service Sunday School
Mid-Service Sunday School activities are available most Sunday's – though we take a break for school holidays. Children begin worship in church as a family (service starting at 9:30a). They are all invited to the front for a brief Children's Message (care givers, you can come up too!). Afterward, any children who want to attend are escorted out to for related activities, lessons and fun. Children are escorted back to service in time for Communion/Blessing. Activities are geared for children ages 3 through 5th grade, and are conducted in a multi-age setting. Of course, children are always welcome to stay in worship for the entire service – we are a very child-friendly congregation. If you would like to help teach or learn more, please contact Jodi Jost (jostjodi@att.net) or Mir Pawlak (mirwyoming@gmail.com). There is no Sunday School scheduled for January 14, February 18, March 25, April 1.
Thank You for the Easter Flowers
Thank you to all who sponsored flowers for Easter 2016.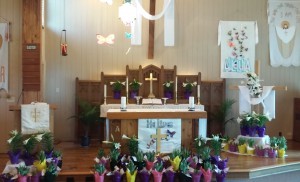 Donna & Dick Barry – In memory of our parents.

Kathy & Charles Bilodeau – In gratitude for Avery Grace Madij, three weeks old!

Lynn & John Brandl – In celebration of the Christ Lutheran family

Theresa Calabrese – In honor of Adeline Winiecki

Kathy & Rich Davis – In memory of Philip and Maryfran Davis and Ben Westre

Natalie Hilberg – In memory of parents Charles & Gertrude Diehl and son Michael. For the Glory of God in thanks for many blessings!

Jodi & Rob Jost – In memory of Bob and Betty Johnson and Darlene Jost

Leona Kim – In thanksgiving for my lovely sons, John and Daniel

Monica Lundeen – In memory of parents Doug & Marianne Palm, brother-in law Gary Rassmusen and father-in-law Robert Lundeen

Allie Menis – In memory of Geegee and Jeffery

Lois Menis – In memory of my mother E'llyn, father Herb and brother LJ

June & Doug Moore – In memory of Luzene Frampton, Bob Older, Jack Brown, and Harry & Iva Grathapaglia

Mir, Bryan, Morgan & Hunter Pawlak – In thanks for all of our family and friends, near and far

Maryann & Tom Pfenning – In memory of Theresa Pfenning, Louise Kuffel and Anna Spangenberger

Fay Vaisvila – In memory of parents Ida & Olof Salmonson,




brother Harold, and brother George & wife Mary Ann

Barbara Williams – In memory of Allen

Sandy Zakrzewski – In memory of parents June and Cecil Gordon
Congrats on a Great Eagle Scout Project
Collecting Hats, Mittens, Scarves…
This November 2014, our Caring Hands group put together 150 sets of hats/mittens/scarves for children who visit or who are served by the Lake County Court system. These children are in desperate need of warmth and comfort. That 150 sets will be used up right away – so Caring Hands will continue to gather items all winter. If you see a good sale, or if you are handy at making things, please consider supporting this effort. Collection bins are under the church mailboxes.
Thanks for the Refreshments!
ELCA Good Gifts Catalog
Great ideas for the person who has everything and needs nothing

Make a difference in the world with just a few dollars!
What to buy for the person who has everything? How about a pig? Or a malaria net? Or a warm meal? You can give all of these things and 47 more options through the ELCA Good Gifts catalog. This year's catalog offers easy ways for our families to save coins and dollars toward purchases that make a real difference in the world. (Did you know you can buy 6 large, durable water transport jugs for only $12?)  The ELCA (the Evangelical Lutheran Church in America – the group to which our congregation belongs) offers one of the world's most effective and respected responses to disaster relief and humanitarian aid. If you feel called to this ministry, please check the online Good Gifts catalog.
 ELCA World Hunger Efforts
We are part of the Evangelical Lutheran Church in America, which for decades has been feeding people here at home and around the world through the ELCA World Hunger initiative. As a partner of churches, social ministry organizations and development and advocacy organizations, ELCA World Hunger helps reach communities most in need throughout the world. From health clinics to microloans, food pantries to soup kitchens, advocacy to community organizing, our gifts are supporting innovative solutions that get at the root causes of hunger. Last year, gifts to ELCA World Hunger supported at least 636 projects around the world, including 388 food pantries, homeless shelters and other projects in the United States; and 239 sustainable development, health and other projects around the world. Learn more about our efforts to feed the world on the ELCA's World Hunger webpages.
Caring Hands Offers Comfort