With all ministries and opportunities, please do not feel pressured to give time, talent or resources. Rather, we offer these opportunities as ways that we as a community of Christ can use our blessings to bless others. Thank you.
---
Connect – eMail, Twitter, Facebook
---
A Message of Love and Inclusion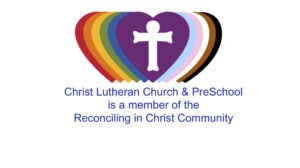 We are a place of welcome and respite. We are also a place where our voices and actions must reflect Jesus' directives to all of us. We are a work in progress as we work to examine our hearts, minds, words and actions so that we can be part of the solution.
We are a Reconciling in Christ Community. Christ Lutheran Church & PreSchool is a community committed to the work of equity and inclusion, bringing justice and support for all of God's beloveds. We welcome those who are seeking God's love and grace for the first time or as a life-long believer. We welcome because Jesus shows us how to welcome, regardless of race, culture, sexual orientation, gender identity, gender expression, age, economic resources, relationship status, health challenges or anything else that too often divides us. It is in our welcome which we commit ourselves to being an anti-racist space, a space where we seek daily to deepen our work of inclusion in the life of our church. Our unity is in Christ. All are welcome here.
We share the ELCA's stance on rejecting all forms of discrimination, including those based on gender identity. ELCA Statement on Gender Identity
We join with all ELCA churches in our commitment to confronting racism.  ELCA Commitment to confronting racism and anti-Semitism
---
---
Call for Cub Scouts!
We invite all boys and girls in Vernon Hills to say "Scout Me In" to Scouts BSA! We're looking for a few adult volunteers to restart Pack 273 in Vernon Hills. Prior to COVID, we had a pack of over 100 kids (starting as early as Kindergarten through grade 4) who were experiencing fun and adventure while learning life skills and giving back to the community.  We already have equipment and funds to support the start-up and experienced Scouters in Troop 273 to offer guidance.  To learn more about Scouting, visit BeAScout.org.  If you are interested in providing your child with the tools they'll need to succeed now and throughout their lives, please contact Theresa Calabrese via email at tcalabrese98@gmail.com.
---
More Service Projects
Gathering items for Love Inc – housewares, bedding, cash donations and volunteer time – learn more about this awesome ministry at  LoveINCLakeCounty.org
Supporting COOL Ministries – Nonperishable, unexpired food products, paper products and more – COOLMinistries.org
Lending a Hand to Sue's Pantry – Local grass-roots effort to care for those in our community – Nonperishables, cash donations, cleaning supplies, laundry detergent, toiletries, feminine products and more – Facebook/SueGsPantry
Lutheran World Relief – One of the most respected and effective relief organizations in the world, providing support to those impacted by floods, fires, earthquakes, disease, storms and war both here at home and around the world. Donations support not only immediate support but also rebuilding for months and years after a disaster. Learn more at LWR.org.
Caring Hands – Supporting this group that gathers to make comfort items for distribution to Lake County Children's Corner, hospitals, schools and other places where there is a need. Learn more by reaching out to CaringHandsVernonHills@gmail.com.
And many more activities and service partners…
---
God's Work. Our Hands.
Thanks for all who helped pack Blessing Bags filled with necessities for our brothers and sisters living in the Chicago Encampment near Pastor Padraig.
Special thanks to Addie and Peyton, who packed more than all of the rest of us combined, AND made colorful hearts for each bag.
---
Disaster Support Through LWR
Lutheran World Relief is one of the most respected and effective relief agencies in the world
LWR workers are some of the first into any situation, both here at home and around the world
Support for refugees and those impacted by war in Eastern Europe and Ukraine
Support for those impacted by wildfires, floods, earthquakes and storms
Support for those impacted by hunger, draught, disease, chaos
Lutheran Disaster Response is one of the most effective and respected relief organizations in the world. On the ground where ever there is need.
---
Caring Hands – 2023 Schedule
The Caring Hands team ties blankets, crochets prayer shawls, makes hats and enjoys fellowship.  Items provided to local hospitals, Lake County Courts Kids Corner, schools and shelters. At-home projects and updates are available by contacting CaringHandsVernonHills@gmail.com. Meeting on the following Saturday mornings:
October 21, 2023
November 18, 2023
During 2022, this group made 389 Blankets for Project Linus distribution as well as 275 sets of hats/mittens/scarves donated to the Roberti House in Waukegan. Thank you for your ministry of comfort!
---
Sign Up for PreSchool

---
Want to flex your Green Thumb?
We are looking for people to help with mowing, trimming and otherwise keeping the church yard under control. (Spring and early summer is a particular challenge as things grow like crazy.) If you can help – even for an hour – please consider reaching out to Holly at HollySJ@earthlink.net to see how to get involved. THANK YOU!
And thanks to the Vernon Hills High School National Honor Society volunteers for assisting. What wonderful young people – we appreciate you!
---
Thanks for Celebrating the
30th Birthday of the PreSchool!
Thank you to current and former students, families, staff and the wider community for coming out to celebrate our 30th birthday as a PreSchool! So much fun! Thank you to all who helped make this celebration possible. Special thanks to CJ and Tyllie for their artistry – the balloon creatures and face painting were amazing.
Proceeds will support the replacement of the play equipment for the small playground. If you would like to donate to the program, we would be grateful for your support — you can donate online by going to our front page and scrolling to the bottom…
Give with Credit Card or PayPal: Visit ChristLutheranVH.org home page and scroll to the bottom for secure giving. You do not need to have a Paypal account to donate through this portal. Thank you.
---
Easter Butterflies
Easter is Sunday, April 9, 2023 – we'll worship at 9:30a
We'll decorate before worship with pots of spring flowers and tulips – please consider bringing some for worship. They can go right home with you after worship, if you like.
We'll also hang colorful butterflies – please consider decorating a few. You may use the Butterfly Coloring Page or use your own imagination.
Thank you!
---
Lenten Devotions
We have compiled a selection of resources – prayers, daily devotions, music – to help enrich your Lenten journey. We will continue to update and add to the Lenten Resources webpage throughout the season.
---
Congregation Meeting Notes
---
Supplies for Homeless Camps
We plan to deliver again in fall, or sooner if weather requires
Collecting items for small health kits, including small tooth paste, tooth brush, deodorant, lotion, chapstick
Warm weather gear, including sleeping bags, blankets, socks, hats, gloves, tarps
Mariano's gift cards – closest store to camp
Snacks including granola bars, dried fruit bars, jer
---
Thanks for the Joy Bags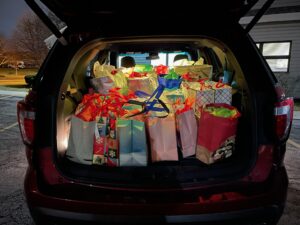 We create approximately 40 gift bags, which were donated to Sue's Pantry, a local effort that serves more than 200 families each week. Thank you to all for your generosity.
---
How to Help
Ukraine & Eastern Europe
Lutheran Disaster Response is working with humanitarian aid providers in Ukraine, Hungary, Poland and Slovakia, and is increasing their effectiveness by partnering with groups including Lutheran World Federation and Church World Service to provide care to  refugees and those impacted by the crisis.
Lutheran Disaster Response is one of the most respected and impactful humanitarian organizations in the world. This organization also offers excellent and effective ways to help people impacted by Hurricane Ian, by droughts and famines, and many more places. Donate on the Lutheran Disaster Response website.
---
---
Love Inc. Lake County
Donations and Volunteers
---
Children's Hospital Activities
Once again we collected toys and activities for a local children's hospital. Books, coloring books, games, easy crafts, small toys – thank you, Allie.
---
Mission Review Project
Who are we?
What work does God have for us?
How do we accomplish God's work?
In 2021, Christ Lutheran Church & PreSchool members and friends completed a series of Purpose and Plan Meetings lead by Pastor David Daubert,assisted by Rev. Kyle Severson, Associate to the Bishop. Thank you to MCSELCA for providing this support.
We are now working on two major tasks 1)What is our Mission (Who are we? Who does God want us to be?) and 2) Structure (How do we accomplish this Mission from a practical and financial standpoint?).
To assist with this task, here are three quick Worksheets that have been distributed over the past several weeks. Each worksheet is designed to quickly gather information about how each member, friend and stakeholder views the situation. Please take a few minutes to complete and return these worksheets. Your ideas are important!
Nan Dahlke is leading our Mission Work Group to work on this project. Are you interested in helping on the Mission Work Group? Please reach out to Nan (nandahlke@ameritech.net).
Notes from the first two meetings – CLCWorkshopSummaryJuly2021
---
We Welcome Trinity Grace Church
Sunday school at 9:30 / Worship at 11:15 
We are blessed to join in partnership with Trinity Grace Church, a Mandarin-language congregation planting a congregation in our community. Pastor Yamin Huang, whose kids went through our preschool a number of years ago, leads the Mandarin-language worship for Christians here in the Vernon Hills and Buffalo Grove area. Please keep the people and ministry of Trinity Grace Church in your prayers.
---
Open Doors… Open Hearts…
In July we Spiced it Up!
We collected seasonings and spices, something the pantries rarely receive but which can really make a meal taste so much better.
In August, we were Open to Pastabilities!
We collected pasta sauce for delivery to COOL, Vernon Township Pantry, St. Joe's Pantry and more…
Thank you to all who donated to our June effort of Open Cans – more than 150 can openers were donated!
---
Project Warmth: Coats for Vets and More…
During cold weather…
Delivering gently used adult-size coats, hats, gloves, boots, socks, sleeping bags, blankets…
Going to Midwest Veterans Closet in North Chicago
Visit www.midwestveteranscloset.org to learn more
---
Kindness Rocks
Keep on Painting…
Stop in for what is sure to be a fun time as we turn regular rocks into solid pieces of encouragement. Supplies provided. We then put these around town (not in the grass to cause problems with lawnmowers!) — and we will grow our art installation to welcome and encourage those coming to church and preschool. Questions? Want to do this at home? Contact Penni at penry4@gmail.com.
---
Looking for Teachers/Faith-Sharers…
Christ Lutheran has some terrific opportunities to give a little time, share a little faith, and get to know some of our young people. Right now we are looking for people to help in any capacity with…
Sunday School – About a half-hour multi-age session provided each Sunday. Curriculum/activity suggestions (including a video) provided. Join the team as teacher or helper, and pick the Sunday's you are available. Please contact Mir Pawlak (mirwyoming@gmail.com) for details.
Confirmation Team – Join the team working to plan and deliver core faith lessons to a very cool group of young people. Pastor Amy will provide direction. Contact her at pastor.amy.becker@gmail.com for details.
Bible Time Story Teller – About once each month, volunteers come into each PreSchool classroom to re-tell the Bible Story for that month. Conversation is quick and simple, and while you probably know all of the stories by heart, Director Kathy Davis has guiding books and props to help. To learn more, please contact Kathy at clcpreschool@aol.com.
And you can probably think of may more ways to share your faith and connect within and outside of our community. Please share your ideas and interests with Pastor Amy Becker-Perez to help you take the next step – pastor.amy.becker@gmail.com.
Thank You, Troop 273!
Have you seen the work that has been done around the building? Amazing — and so appreciated. Special thanks to Eagle Scout Project Leaders Drew, Matt and Nathan, and to all of the Scouts and adults volunteers who work so hard. Congratulations to all of the Scouts working toward Eagle Rank — this Troop has a bunch. Just look at the names on the plaque in the Fellowship Hall. More names coming soon!
Congregation Update Meeting – March 18, 2018
On Sunday, March 18 the congregation gathered for an update meeting. Thanks to God's tremendous power combined with the generosity and vision of His people here at Christ Lutheran, we have reached all of the goals we set in January. We continue to strengthen our processes so that we can focus on His Vision for this ministry. Thank you all. Below are resources from that gathering:
Congrats on a Great Eagle Scout Project
Collecting Hats, Mittens, Scarves…
This November 2014, our Caring Hands group put together 150 sets of hats/mittens/scarves for children who visit or who are served by the Lake County Court system. These children are in desperate need of warmth and comfort. That 150 sets will be used up right away – so Caring Hands will continue to gather items all winter. If you see a good sale, or if you are handy at making things, please consider supporting this effort. Collection bins are under the church mailboxes.
Thanks for the Refreshments!
 ELCA World Hunger Efforts
We are part of the Evangelical Lutheran Church in America, which for decades has been feeding people here at home and around the world through the ELCA World Hunger initiative. As a partner of churches, social ministry organizations and development and advocacy organizations, ELCA World Hunger helps reach communities most in need throughout the world. From health clinics to microloans, food pantries to soup kitchens, advocacy to community organizing, our gifts are supporting innovative solutions that get at the root causes of hunger. Last year, gifts to ELCA World Hunger supported at least 636 projects around the world, including 388 food pantries, homeless shelters and other projects in the United States; and 239 sustainable development, health and other projects around the world. Learn more about our efforts to feed the world on the ELCA's World Hunger webpages.