With all ministries and opportunities, please do not feel pressured to give time, talent or resources. Rather, we offer these opportunities as ways that we as a community of Christ can use our blessings to help bless others. When it comes to these and other ministries, the most important offering you can give is your prayers. Thank you.
---
Christ Lutheran on Twitter & Facebook
---
We Share a Message of Love and Inclusion
We are a place of welcome and respite. We are also a place where our voices and actions must reflect Jesus' directives to all of us. We are a work in progress, but we will work to examine our hearts, minds, words and actions so that we can be part of the solution.
---
Prayer Concerns
Our Prayer Chain is ready to pray for you. You may remain anonymous. Simply email to christlutheranvh@aol.com and we will begin praying for you.
Our Journey in Pictures!
Check out the slide show of some of our memories here at Christ Lutheran Church and PreSchool. Thanks, Penni.
PreSchool Fundraiser:
Yankee Candle
Christ Lutheran PreSchool is offering items from Yankee Candle as an easy-to-order fundraiser. Yes, there are candles, but also holiday decorations, kitchen items, gifts and more. Sale runs through October 12, and you will receive your purchases two to four weeks after you place your order (and usually much sooner!). If you go online, visit yankeecandlefundraising.com, scroll down the page to "Start Shopping," and use our Group Number 999972597. Catalogs are available at church. If ordering with a paper order form, please make checks to Christ Lutheran PreSchool. Thank you for your generosity.
Children's Book Drive –
September through October 5
From September 9 through October 5 we will be collecting new and gently-used books for Bernie's Book Bank (https://www.berniesbookbank.org). The books should be geared for kids birth through 6th grade. Watch for collection bins in the hall. Our goal is that church members, preschool families, Scouts and friends will all help us to collect 1,500 books in that time. We can do it!
Please Support Our Scouts
Christmas Wreaths
Popcorn
BSA Troop 273 is already gearing up for their annual Christmas Wreath (and more) sale, as well as Popcorn Sales. Check the Christmas Greens catalog and Popcorn list (see at end of this news item), and then be ready to order from our Scouts, who we hope will be on hand to take orders sometime this fall. You may also reach out to volunteer BSA leader/church member Theresa Calabrese (tcalabre@aol.com). More info will be posted as it becomes available. Thank you supporting this hardworking group — they do so much for us!
Confirmation: Sept. 30
Our first Confirmation Class of this season is planned for Sunday, September 30 after worship (about 10:30 a.m.). We will look at Genesis and Creation. Pastor emailed a quick homework assignment (3 facts/pieces of information about three different characters from Genesis: Abram/Abraham, Jacob/Israel and Joseph). We are excited to be lead by Mr. Charlie Bilodeau – a long-time Stevenson teacher and faith sharer who currently works with Loyola to develop high school curriculum, particularly in the area of sustainability. Second class scheduled for November 11 at 10:30 a.m. – Exodus and 10 Commandments.  Questions? Contact Pastor Amy Becker-Perez (pastor.amy.becker@gmail.com).
Congregation Meeting – October 28
We will hold a congregational meeting following our worship service on Sunday, October 28. In addition to a time of fellowship, the topics will include a financial update and voting on an addition to our by-laws (see below).
Proposed Addition to By-Laws
At our council meeting on August 19, the council of Christ Lutheran Church and Preschool approved the motion set forth below. In order for it to be adopted to our bylaws, the proposal will need to be voted on by our congregation at the next Congregational Meeting on Sunday, October 28 after worship. Please attend!
Motion to add the following description to our bylaws (revised 2013) under Part 7 titled Preschool Education Committee: Add:
E. A parent of a registered preschool student (who is not a voting member of this congregation) may be appointed to the Preschool Education Committee at the discretion of the church council with input by the Preschool Director.
Kindness Rocks
Keep on Painting…
Stop in for what is sure to be a fun time as we turn regular rocks into solid pieces of encouragement. Supplies provided. We then put these around town (not in the grass to cause problems with lawnmowers!) — and we will grow our art installation to welcome and encourage those coming to church and preschool. Questions? Want to do this at home? Contact Penni at penry4@gmail.com.
Still a Bit of Room in PreSchool
There is still room in some classes for Christ Lutheran PreSchool. More info is available on our PreSchool webpages.
Looking for Teachers/Faith-Sharers…
Christ Lutheran has some terrific opportunities to give a little time, share a little faith, and get to know some of our young people. Right now we are looking for people to help in any capacity with…
Sunday School – About a half-hour multi-age session provided each Sunday. Curriculum/activity suggestions (including a video) provided. Join the team as teacher or helper, and pick the Sunday's you are available. Please contact Mir Pawlak (mirwyoming@gmail.com) for details.
Confirmation Team – Join the team working to plan and deliver core faith lessons to a very cool group of young people. Pastor Amy will provide direction. Contact her at pastor.amy.becker@gmail.com for details.
Bible Time Story Teller – About once each month, volunteers come into each PreSchool classroom to re-tell the Bible Story for that month. Conversation is quick and simple, and while you probably know all of the stories by heart, Director Kathy Davis has guiding books and props to help. To learn more, please contact Kathy at clcpreschool@aol.com.
And you can probably think of may more ways to share your faith and connect within and outside of our community. Please share your ideas and interests with Pastor Amy Becker-Perez to help you take the next step – pastor.amy.becker@gmail.com.
Thank You, Troop 273!
Have you seen the work that has been done around the building? Amazing — and so appreciated. Special thanks to Eagle Scout Project Leaders Drew, Matt and Nathan, and to all of the Scouts and adults volunteers who work so hard. Congratulations to all of the Scouts working toward Eagle Rank — this Troop has a bunch. Just look at the names on the plaque in the Fellowship Hall. More names coming soon!
Notes from Congregation Update Meeting
On Sunday, March 18 the congregation gathered for an update meeting. Thanks to God's tremendous power combined with the generosity and vision of His people here at Christ Lutheran, we have reached all of the goals we set in January. We continue to strengthen our processes so that we can focus on His Vision for this ministry. Thank you all. Below are resources from that gathering:
Membership Update
We are working to update our membership information. Please take a moment to complete a form for your family – even if you don't think anything has changed. Forms can be returned to church. Thank you very much.
Thank You for the Easter Flowers
Thank you to all who sponsored flowers for Easter 2016.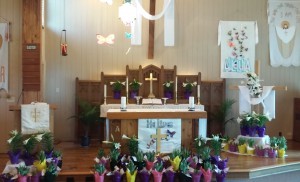 Donna & Dick Barry – In memory of our parents.

Kathy & Charles Bilodeau – In gratitude for Avery Grace Madij, three weeks old!

Lynn & John Brandl – In celebration of the Christ Lutheran family

Theresa Calabrese – In honor of Adeline Winiecki

Kathy & Rich Davis – In memory of Philip and Maryfran Davis and Ben Westre

Natalie Hilberg – In memory of parents Charles & Gertrude Diehl and son Michael. For the Glory of God in thanks for many blessings!

Jodi & Rob Jost – In memory of Bob and Betty Johnson and Darlene Jost

Leona Kim – In thanksgiving for my lovely sons, John and Daniel

Monica Lundeen – In memory of parents Doug & Marianne Palm, brother-in law Gary Rassmusen and father-in-law Robert Lundeen

Allie Menis – In memory of Geegee and Jeffery

Lois Menis – In memory of my mother E'llyn, father Herb and brother LJ

June & Doug Moore – In memory of Luzene Frampton, Bob Older, Jack Brown, and Harry & Iva Grathapaglia

Mir, Bryan, Morgan & Hunter Pawlak – In thanks for all of our family and friends, near and far

Maryann & Tom Pfenning – In memory of Theresa Pfenning, Louise Kuffel and Anna Spangenberger

Fay Vaisvila – In memory of parents Ida & Olof Salmonson,




brother Harold, and brother George & wife Mary Ann

Barbara Williams – In memory of Allen

Sandy Zakrzewski – In memory of parents June and Cecil Gordon
Congrats on a Great Eagle Scout Project
Collecting Hats, Mittens, Scarves…
This November 2014, our Caring Hands group put together 150 sets of hats/mittens/scarves for children who visit or who are served by the Lake County Court system. These children are in desperate need of warmth and comfort. That 150 sets will be used up right away – so Caring Hands will continue to gather items all winter. If you see a good sale, or if you are handy at making things, please consider supporting this effort. Collection bins are under the church mailboxes.
Thanks for the Refreshments!
ELCA Good Gifts Catalog
Great ideas for the person who has everything and needs nothing

Make a difference in the world with just a few dollars!
What to buy for the person who has everything? How about a pig? Or a malaria net? Or a warm meal? You can give all of these things and 47 more options through the ELCA Good Gifts catalog. This year's catalog offers easy ways for our families to save coins and dollars toward purchases that make a real difference in the world. (Did you know you can buy 6 large, durable water transport jugs for only $12?)  The ELCA (the Evangelical Lutheran Church in America – the group to which our congregation belongs) offers one of the world's most effective and respected responses to disaster relief and humanitarian aid. If you feel called to this ministry, please check the online Good Gifts catalog.
 ELCA World Hunger Efforts
We are part of the Evangelical Lutheran Church in America, which for decades has been feeding people here at home and around the world through the ELCA World Hunger initiative. As a partner of churches, social ministry organizations and development and advocacy organizations, ELCA World Hunger helps reach communities most in need throughout the world. From health clinics to microloans, food pantries to soup kitchens, advocacy to community organizing, our gifts are supporting innovative solutions that get at the root causes of hunger. Last year, gifts to ELCA World Hunger supported at least 636 projects around the world, including 388 food pantries, homeless shelters and other projects in the United States; and 239 sustainable development, health and other projects around the world. Learn more about our efforts to feed the world on the ELCA's World Hunger webpages.
Caring Hands Offers Comfort